National Anthem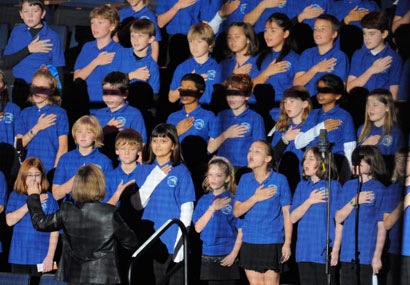 Ever dreamed of having your group, choir, or choral group sing the National or Canadian Anthem in front of thousands before the big game? By purchasing 50 or more tickets at the group rate, your group will have this once-in-a-lifetime honor!*
*Based on availability, only one group per anthem per night.
Anthem Group Benefits:
Sing before the start of the Gladiators game. You chance to shine in front of thousands of Glads Nation members!
Discounts! Get a special rate on tickets for family and friends to attend.
Sit together. Enjoy the game as a group and have fun together in block seating.
Your name in lights! Your group's name will be on the Arena video board and we'll make an in-arena PA announcement during the game welcoming your group.
Win free stuff just for showing up! There will be a prize raffle for all group attendees.
Get a deal on Gladiators gear! Your group's attendees will get a discount on our merchandise.
Phone: 770-497-5100
Fax: 770-497-5101
E-mail: hockey@atlantagladiators.com
-- ATLANTA GLADIATORS PROFESSIONAL HOCKEY --