Office Staff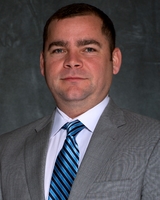 Joe Gelderman
President
The 2016-2017 season will mark Joe's fourteenth season with the Gladiators. Joe serves as the Vice President and General Manager of Business Operations, after having been promoted at the end of the 2013-2014 season, where he oversees all of the organization's day to day business operations. Prior to this, Joe has served as Vice President of Sales, Director of Operations, Director of Game Day Operations, and Account Executive when he first began working for the Gladiators in 2003. Under his leadership of the sales staff, Joe has increased group sales revenue in each season and set an organizational record for group sales in each the 2013-2014, 2014-2015, and 2015-2016 seasons. Joe takes great pride in being a part of one of the premier franchises – not just in the ECHL- but in all of professional sports and will continue to strive to provide one of the best entertainment values in the Atlanta area – Gladiator's Hockey.

Joe began his career in sports as the Director of Ticketing and Promotions for the Rio Grande Valley WhiteWings of the independent Central Baseball League. After that, Joe also gained valuable sport's experience working for the Tennessee Smokies of the AA Southern league before returning home to Georgia to work for the Gladiators.

Joe is a graduate of the University of Georgia with a degree in Sport Studies with a concentration in Business. Joe currently resides in Flowery Branch with his wife, Carol Ann.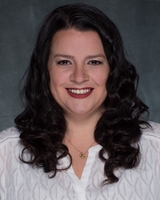 Christina Johnson
Senior Director of Digital, Media, and Game Operations
Christina begins her fourteenth season with the Gladiators as the Senior Director of Digital, Media, and Game Operations. In addition to her responsibilities overseeing the Gladiators efforts with the Metro Atlanta media, she will develop and manage content across all of the Gladiators digital platforms, including Facebook, Twitter, Instagram, SnapChat, & YouTube. Having won the 2008 ECHL Website of the Year award (alongside Dustin Bixby) Christina is fully responsible for the content and design of the Glads website plus all of the team's graphic and print design initiatives. She continues to spearhead the Game Operations Department and remains responsible for handling the team's merchandise, as well as sustaining her work with corporate & individual sales and organizational event planning.

Having graduated from Georgia State University, where she majored in Broadcast Journalism, Christina began her career in sports as a Media Relations intern during the Gladiators inaugural year. A rare true native of Atlanta, she possesses a die-hard love of the Texas Longhorns. Inspired by the unorthodox combination of having grown up in the south and a passion for the frozen sport, Christina got her hockey start going to Atlanta Knights games at the old Omni and Jacksonville Lizard Kings games in Florida. Currently residing in Lawrenceville, Christina is actively involved as a Board Member of Fabulous Friends in Philanthropy Inc., a non-profit organization created to promote charitable giving while empowering homeless girls.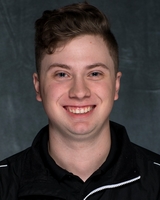 Darien Engelhardt
Equipment Manager
Darien comes to the Gladiators after starting the season off with the Kindersley Klippers of the Saskatchewan Junior Hockey League (SJHL), where he was the team's Trainer and Equipment Manager. Prior to his time with the Klippers, Darien was with the University of Regina Cougars Men's Hockey Team as their Head Equipment Manager, as well as with the Saskatoon Blades and Regina Pats, both of the Western Hockey League (WHL), where he was an assistant.
Over the summers Darien resides in Regina, Saskatchewan with his family Peter, Shauna, and brother Dane, and works with the Regina Red Sox baseball club of the Western Major Baseball League (WMBL).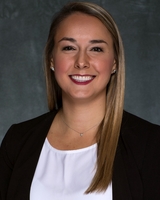 Bailey Felschow
Account Executive
The 2016-2017 season will be Bailey's first season with the Gladiators. She is a graduate of the University of Georgia with a degree in Sport Management. While in college, Bailey was an intern for AthFest Educates where she assisted in the planning and execution of the AthHalf Half Marathon.

Bailey grew up in Northern Virginia but was planning on moving to Georgia and attending the University of Georgia since she was in the fourth grade. She grew up playing soccer and field hockey, but loves watching baseball and ice hockey. In her free time you can find her hanging out with her friends and watching the Nationals, Capitals, or Bulldogs! She now resides in Sandy Springs, Georgia.
Christopher Leverett
Senior Ticket Account Executive
Christopher Leverett begins his tenth season with the team. No stranger to the sports world, Christopher has previously worked as an Assistant Sports Information Director at Norfolk State University (Norfolk, Va.) where he served as the media liaison for the women's basketball, volleyball, men's and women's tennis and track teams.
A graduate of the Game Face Academy, Christopher is originally from Jackson, Michigan. He graduated from Albion College with a degree in English and Mass Communications. Christopher, who resides in Suwanee, is an avid fan of both Michigan State and Duke.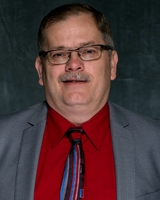 Clyde Patterson
Director of Community and Youth Hockey Relations
The 2016-2017 season marks Clyde Patterson's third season with the Gladiators. As the Director of Community and Youth Hockey Relations, Clyde is responsible for managing all Community affairs and events including working with the Atlanta area Youth Hockey programs. He will also continue with game day operations, and providing service for season ticket holders and group events.

A lifetime fan of hockey who first laced on the skates at the age of 5, Clyde brings a love for the game as well as a passion for the community. Growing up in Georgia, he spent much of his time at the Omni, watching the Atlanta Flames. He is very well known in the hockey community, as he founded the very first indoor Roller Hockey program in Georgia in 1994 and has coached, refereed, managed and coordinated many teams and tournaments in the last 22 years including coaching his son's high school team. Clyde was a member of the Georgia High School Roller Hockey Association for 7 years, serving one year as Chairman of the Board. Clyde is a Level 3 USA Hockey Certified Coach. Clyde recently retired from coaching youth hockey after spending 22 years doing what he loved, teaching our youth. He plans to spend much of his newly found free time with his family and catching up on his "honey do list." Clyde is a rare breed, as he and his wife, Nancy are both native to north Georgia. They reside in Alpharetta with their three children, Brittney, Daniel and Olivia.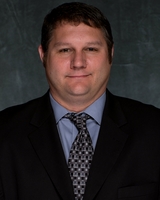 Anthony Schaaf
Corporate Sales Executive
Anthony is entering his 2nd season with the Gladiators. As a corporate sales manager he is responsible for developing and retaining corporate clients by creating unique partnerships that allow his clients to build their brand alongside the Gladiators both on and off the ice.

Before coming to the Gladiators, Anthony worked in both the adult social sports industry and served in the military with the United States Army and the Georgia National Guard.

Anthony earned his Bachelor of Science degree in Sports Management from Kennesaw State University in 2012. He also holds an associate's degree in Criminal Justice. Originally from St. Louis, Anthony now lives in Holly Springs with his wife Mary and his two children Marissa and Tyler. During his free time you'll find him spending time with his family and cheering for his beloved Blues & Cardinals.
Email Anthony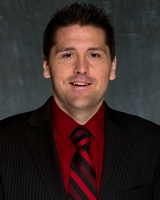 Chris Treft
Team Broadcaster and Media Manager
Chris is entering his second season as the broadcaster and media manager with the Gladiators. He will once again serve as the team's play-by-play voice for all 72 Glads games this season on the Gladiators Broadcast Network among various other media responsibilities. The native of Fort Wayne, Indiana, was the number two broadcaster for the Adirondack Flames of the AHL during the 2014-15 campaign. Treft preceded that the season prior as the TV color commentator and broadcasting intern with his hometown Fort Wayne Komets of the ECHL. In addition to his time in pro hockey, Treft has had an assortment of broadcasting experience serving as the voice of the Fort Wayne Federals of the MnJHL, Fort Wayne High School Hockey Association and the 2013 and 2014 Indiana High School State Championships. During the summertime, he is also the broadcaster of the TORHS 2Hot4Ice and State Wars Roller Hockey National Championships.

Chris is a graduate of IPFW (Indiana-Purdue Fort Wayne) where he played hockey for the Mastodons while getting his degree in Media Communications and minors in Public Relations and Media Production. His immense passion and love for the sport of hockey all started when his grandpa took him to Fort Wayne Komets games as a baby to sneak beer and peanuts in his diaper bag. When the ushers at the Memorial Coliseum caught on to the trick, he was already old enough to enjoy the games himself. He became a huge hockey nut and, more specifically, a Komets fan. (Don't hold that against him as he promises he is all Glads now.) Chris now lives in Duluth and enjoys playing roller hockey, working out and cheering for the Colorado Avalanche and New York Mets in his free time.