Medical Staff
Aaron Rice
Athletic Trainer
The 2016-2017 season marks Aaron's second year as the Head Athletic Trainer. Aaron is a graduate of the University of Maine with a Bachelor of Science degree in Athletic Training. While at UM, Aaron working with their Division I hockey, baseball, basketball, and football teams. During his senior year, he completed an internship working with Division III hockey and lacrosse teams.

Prior to joining the Gladiators, Aaron worked as an athletic trainer at a local high school in Georgia and as an intern with the Glads for two seasons.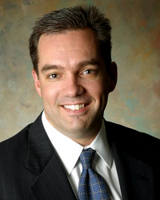 Dr. Brian Morgan
Team Physician
Brian E. Morgan, M.D. practices as a member of OrthoAtlanta, Atlanta's premier Orthopaedics and Sports Medicine practice. Dr. Morgan sees patients at OrthoAtlanta offices in Johns Creek (678-205-4261), and in Gwinnett / Lawrenceville (678-957-0757) providing orthopaedic care to patients in Gwinnett, Hall, North Fulton, and South Forsyth counties in Georgia. He is Fellowship-trained in Sports Medicine and is double board certified in Orthopaedic Surgery and Sports Medicine. His specialties include orthopedics, sports medicine, and arthroscopic surgery. Dr. Morgan is an avid sports enthusiast who played basketball and soccer on both the high school and college levels. He is also involved in many community, college, and professional organizations. He has been an orthopaedic consultant for a variety of teams and athletes on the collegiate and professional levels. He has also been a team physician for several area high schools and soccer teams. He has been the Team Physician for the Atlanta Gladiators since their inaugural season in 2003. Dr. Morgan is a second generation physician and now walks the same halls of Gwinnett Medical Center as his father, a recently retired emergency room veteran, did. He resides on Lake Lanier, and in his free time enjoys lake life, travelling, music, and sports of all kinds.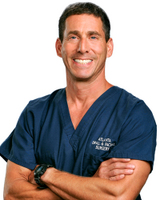 Dr. Erik Belinfante
Team Oral Surgeon
Dr. Erik Belinfante is a graduate of the University of Georgia. While at Georgia, he was a member of the UGA Ice Dawgs. He continued to play hockey with the Boston University School of Medicine while he was obtaining his DMD at Boston University. Dr. Belinfante completed his internship at Boston City Hospital/Tufts, his General Anesthesia residency at Metro Health Medical Center in Cleveland, his Residency in Oral and Maxillofacial Surgery in Brookly and Queens and a fellowship at LSU in facial trauma TMJ, dental implants and facial plastic surgeries. Dr. Belinfante followed in his father's footsteps and became a partner with Atlanta Oral & Facial Surgery and practices locally in Johns Creek and Sugar Hill.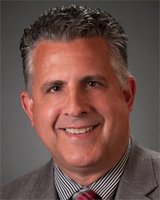 Dr. John Buchanan, DO
Official Primary Care Physician
John M. Buchanan, D.O. of Children's Orthopaedics of Atlanta provides primary sports medicine and orthopedic care to patients in Gwinnett, Hall, and Barrow counties. His practice is located in Hamilton Mill. He is a graduate of Mercer University where he played collegiate baseball. Dr Buchanan completed his residency at the University of Alabama and sports medicine fellowship at the University of Notre Dame. He serves as the team physician for Mill Creek, Buford, Apalachee, and Winder-Barrow High Schools. He resides in Dacula with his wife Sherri and three children, Kylie, Jackson, and Lindsey.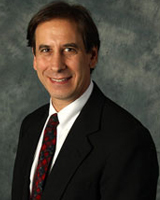 Dr. Mark Light
Team Podiatrist
Dr. Mark Light's practice of podiatry is East Cobb Foot and Ankle Care. He has practiced in the Atlanta metropolitan area for many years and has worked with the team since their move to Gwinnett. He is originally from outside the Buffalo New York area. He is a graduate of Emory University, went to Chicago for his Podiatric Medical Education and completed a surgical residency program in Detroit, Michigan. He is Board Certified in both foot and ankle surgery. He has extensive training in all aspects of the medical and surgical treatment of foot and ankle conditions and treats all age groups from infants to senior adults. Areas of interest for Dr. Light include sports medicine, surgery, and quality and gentle care of the foot and ankle. An avid sports fan, he has personally participated in many sports and has had season tickets to many of the local sports teams. His resides in Marietta with his wife and 2 children. His goal is to help keep the Atlanta Gladiators on the ice and in their skates.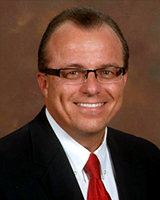 Dr. Roman Cibirka
Team Dentist
Roman Cibirka, DDS, MS is a maxillofacial prosthodontist who practices in Lawrenceville and also serves as VP for Clinical Affairs at Tralongo Management. He trained at the University of Michigan where he practiced from 1988 to 1996 and served as dentist for the Detroit Red Wings. He relocated to Georgia in 1996 and became a tenured professor and Executive VP at the Medical College of Georgia Academic Medical Center in Augusta. Dr. Cibirka is internationally recognized for his achievements in prosthodontics, health education and innovation using advanced technologies. He has maintained positions as a strategic advisor for Fortune 500 companies for over fifteen years and has lectured on every continent in the world on topics relating to dentistry, dental implants, prosthodontics, biocompatibility, dental technology and forensics. Dr. Cibirka grew up playing hockey in Michigan and has always been an avid fan. Dr. Cibirka is enthusiastic of community involvement and organizations with similar missions.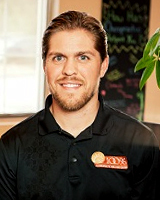 Dr. Steve Nutty
Team Chiropractor
Dr. Nutty of 100% Chiropractic is a native of Central New York, but has lived in the southeast since 2007. Steve received his Bachelor of Science in Biology from Utica College of Syracuse University. While attending Utica College Steve was a four year member of the NCAA Men's Ice Hockey team as well as a three year member of the NCAA Golf team. Dr. Nutty attended Sherman College of Chiropractic in Spartanburg, S.C. where he graduated in 2011 with honors. While attending Sherman College Dr. Nutty continued his passion for athletics as the head coach for Clemson Universities Men's Ice Hockey team from 2008-2011, as well as volunteering with the local youth hockey associations. 2015-2016 marks Dr. Nutty's first season with the Gladiators.