Coaching Staff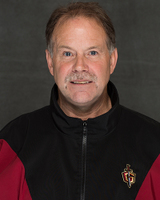 Jeff Pyle
Head Coach and General Manager of Hockey Operations
The 2018-19 season begins Pyle's second tenure at the helm of the Gladiators. Pyle, 59, returns to the Gladiators organization after spending the last six seasons in various leagues, including a one-year stint as the Head Coach of the Texas Stars of the AHL. The Fort Leonard Wood, MO native spent 13 seasons with the Mobile/Gwinnett franchise, accumulating 436 wins. His 477 overall victories in the ECHL with Mobile, Gwinnett, and Evansville rank him as fourth all-time winningest coach in the league's 30-year history.
During his original stint with the Gladiators, the team went 309-210-17-40 while making the playoffs six times in eight seasons. Pyle's best season with the Gladiators was in 2005-06, when he led the team to a franchise best 107 points and a record of 50-15-7. The Gladiators went on to win the American Conference Championship en route to their first, and only, Kelly Cup Finals appearance, eventually losing to the top seeded Alaska Aces in five games.
Most recently, Pyle spent two seasons in Evansville with the SPHL's Thunderbolts. The veteran coach led the young franchise to their first ever playoffs appearance druing the 2017-18 season. The 17-year head coach spent one season with the Evansville IceMen of the ECHL in 2013-14, after his one season stop with the Dallas Stars' AHL affiliate in Austin, TX. Pyle started his coaching career in 1998-99 with the Mobile Mysticks, and spent four seasons in southern Alabama before relocating with the franchise to Duluth, GA as they became the Gwinnett Gladiators in 2002.
Pyle once again resides in Gwinnett County with his wife Cathy, son Ryan and daughter Lauren.