Coaching Staff
Chuck Weber
Head Coach and General Manager of Hockey Operations
The 2018-19 season marks the second year with Weber at the helm of the Atlanta Gladiators after being named the fifth Head Coach and Director of Hockey Operations in club history on August 23, 2017. The Lockport, NY native previously served at the ECHL level as the Vice President of Hockey Operations & Head Coach of the Cincinnati Cyclones from 2006-2010. Weber led his team to the ECHL Conference Finals in three of his four years behind the bench, capturing the ECHL Kelly Cup Championship twice (2008, 2010). With the 2010 Kelly Cup title, Weber earned his 45th career Kelly Cup playoff win, passing Davis Payne (Alaska Aces) for most by a coach in any four-year period in ECHL history. The veteran bench boss was voted ECHL Coach of the Year in 2007-08, after being named runner-up in 2006-07.
Weber began his professional coaching career as the Assistant Coach with the Orlando Solar Bears of the International Hockey League (IHL) in 1999. In his second season in Orlando, he helped the team win the Turner Cup Championship after making it to the final the year prior. Weber also has lengthy experience as an AHL Head Coach in the Florida Panthers organization for the Rochester Americans in 2010-11 and San Antonio Rampage from 2011-2014. Most recently, Weber returned to Rochester, NY and spent last season as an Assistant Coach for the Buffalo Sabres AHL affiliate. In addition, Weber was the Head Coach for Medvescak Zagreb of the KHL for the first part of the 2014-15 season before finishing the year with the Coventry Blaze of the EIHL in Great Britain. In 2015-16, Weber returned to Coventry and won the EIHL playoff title, his fourth championship overall and third as a head coach.
Weber now resides in Duluth, GA with his wife Angie and two year old son EJ.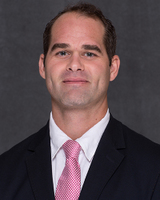 Brady Leisenring
Assistant Coach
Brady Leisenring was named the Gladiators Assistant Coach on September 8, 2017. Leisenring joins the coaching staff after spending two seasons as the assistant coach of Esbjerg Energy (Denmark).
The Vermont native commenced his coaching career in Esbjerg after injuries forced him to retire 16 games into the 2014-15 season with the Energy. This season marks his first as a professional coach in North America.
Leisenring enjoyed a ten-year professional playing career (486 games) in the AHL, ECHL and various European leagues. The forward was also a standout during a four-year collegiate career (2002-2006) at his home state's University of Vermont notching 117 points in 145 career games. Leisenring was also a three-year captain while at Vermont. In his final season with the Catamounts (2005-06), Leisenring broke NHL great, John LeClair's all-time record of most career points by a Vermont born player. Prior to his tenure at UVM, Leisenring skated three seasons for the United States National Team Development Program.
Recongnition and awards:
- Leading goal scorer, Bundesliga, Kaufbeuren, Germany, (2012)
- ECAC, 1st Team All-Star and regular season point leader, (2004)
- New England Sports Writers, First Team All New England, (2004)
- ECAC All Academic Team, (2001-2005)
- Hockey East, All Academic Team, 2005-2006)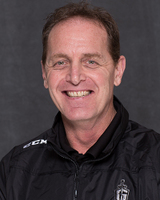 Brian Daley
Video Coach, Hockey Analytics
This will be Brian's second season working in hockey operations with the Gladiators. He held similar roles with the Cincinnati Cyclones (ECHL, IHL) in years past, and has recently worked in the ECHL with Atlanta as an off-ice official.
Originally from Michigan, Brian has played and coached hockey for four decades and remains very active in community hockey programs at Atlanta's Center Ice Arena. He is a USA Hockey certified coach with recognized success at U14, U16 and High School programs. He is currently head coach of Atlanta Center Ice U14 bantam travel, assistant coach with his Son's bantam house league team, and plays regularly in the Atlanta Amateur Hockey League (AAHL).
Brian, his wife Stacey and their Son Liam live in the Newnan/Peachtree City area of Atlanta. They also have three adult children and two grandchildren; all are Red Wings Fans!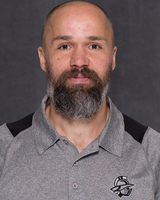 Roman Marakhovski
Skills Coach
Marakhovski, a Kharkov, Ukraine native, begins his fourth season as a member of the Gladiators coaching staff. With over 10 years of professional hockey experience and over 475 professional games played across the US and Europe, Marakhovski skated for professional hockey teams in the former Soviet Union plus attended training camps and played in exhibition games with the Ukrainian National Team.

Over the course of his professional playing career, he had stops in France, Greensboro, Augusta, Louisiana, and Johnstown, before finishing his career in Gwinnett/Atlanta. Marakhovski graduated in 2006 with a Bachelor of Science degree from Kharkov State Institute of Physical Education in Physical Education & Sports Management and currently resides in Atlanta.